We translate clinical trial documentation for Clinical Research Organizations across more than 100 language groups
– quickly, accurately, and with an expertise based on almost 50 years of producing IRB-compliant translations.
The Challenges We Address
We specialize in complex, multi-language Patient Consent packages.
Projects that require dedicated and experienced project management.
Projects that need timely delivery – available when promised on a consistent basis.
Projects that need to be done right the first time – without a lot of back and forth.
Projects that are expertly formatted and ready to go when delivered.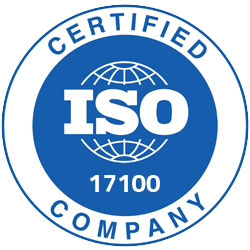 Click here for a list of some of the common document types we translate.
Patient Informed Consent Forms (ICFs) and Patient Information Leaflets (PILs)

Doctor Guides

Drug Inserts

Patient Guides

Patient Questionnaires

Regulatory Documents

Product Labeling
Manuals & Instructions
Marketing Materials
Website Localization
Package Leaflets
Software Localization
Brand Management

Product Approval Packets for Various Regulatory Agencies

Patient Information & Brochures
IFUs and DFUs
Scientific Research Documentation
Clinical Research and Medical Reports
Regulatory Approval Dossiers
Certificates of Conformance
Summary of Product Characteristics
Clinical Trial Agreements
Clinical Trial Materials
Clinical Trial Content
Clinical Protocols
Frequently Asked Clinical Questions (FAQs)
Case Report Forms
Patents
Scientific Publications
Patient Reported Outcomes (PROs)
Scales and Quality of Life (QoL) Instruments

Adverse and Severe Adverse Events

Patient Recruitment, Questionnaires, Quality of Life Scales, Diaries and Interpretations

Patient and Clinician Education Materials

Case Report Forms (CRFs)

Training Documentation

Clinical Study Protocols

Synopses

Informed Consent Forms (ICFs)

Patents and Patent Applications

Chemistry, Manufacturing, and Controls (CMC) Documentation

Quality Of Life Scale (QOLs) and other Patient Reported Outcomes (PROs)

Packaging and Labeling

Investigator Brochures

Instructions-For-Use Inserts

Medical Device Operation Manuals

Instruction and User Guides

Product Catalogs

Clinical Training Materials

Brochures and Web content

Informed Consent Forms (ICFs) for Clinical Trials

Localization of Medical Device Software

Translation of Resource Files

Clinical Study Report Forms and Clinical Study Protocols

Clinical Trial Recruitment and Retention

Case Study Report Forms (CRFs)

Physician Letters

Site Documentation and Reports

Packaging and Labeling

Import/Export Permits

Preclinical – Phase IV Documentation

Summaries of Product Characteristics (SmPC)
Every Clinical Trial project is assigned a dedicated project manager with many years of experience in clinical trials.
Every project is given a clear and accurate target completion date.

Clients can communicate with their Project Manager on the status of their project at any time.

We use the leading translation portal technology.
Our global teams specialize in Clinical Trial Translations.
Our project teams understand the timing, accuracy and budget realities of these type of projects.
We've translated over five thousand clinical trial-related document packages for over fifty life science companies in the last 2 years alone.



"I have had the experience of working with the DTS Team for translation needs over a span of 16 years. DTS always provided top quality and 100% accuracy on all translated documents. The DTS Team is always professional and go to great lengths to meet all timelines.
I highly recommend DTS for all your translation needs."
Therese Allen, WCG IRB                See more testimonials