The 3 Keys To Accurate Translation For Clinical Trials
Language translation is a more complex discipline than many people think. Sometimes, mistakes are comical. Sometimes, they carry serious consequences. And sometimes it's both – like when native Alaskans were given medical forms in an emergency room with sentences like "your husband is a polar bear".
Sure, this is a newsworthy headline, and maybe you haven't called someone's husband a polar bear (yet). But translation mistakes are only funny until they harm someone's well-being and your company faces regulatory or other significant consequences. Suddenly, it's far less funny.
That's why if you are in a high-stakes sector like clinical trials, biotechnology, medical device or other life science discipline, you need a translation service that gives you far more confidence than an assumed level of fluency. In our experience, there are three fluencies translators need to serve industries like life sciences, pharmaceuticals, and their clinical trials programs. 
Native-speaking language fluency

Subject matter fluency

Industry fluency
Let's dive deeper into the importance of these three core medical translation fluencies.
Fluency 1: Language And Vernacular 
When it comes to accurate translation, there is far more to consider than the word-for-word definitions and pronunciation of a particular word in a given language. Many cultures develop a unique dialect and vernacular within the broader language. This means that one region (even within the same country) may use different words or expressions to communicate a concept or idea than a neighboring region even though both speak the same language. 
For this reason, you seek providers with native language speakers that can communicate the desired ideas and concepts in the most specific and accurate manner. The value of native language translators is a more precise translation for the target region and culture.
Fluency 2: Subject Matter Knowledge 
"Life sciences" has a language all its own. This adds a layer of complexity to the translation process. Not only is there a need to accurately translate words, phrases, and concepts from one language to another, but it is essential to perform that translation in the context of the life sciences industry. 
When translating technical terminology and communicating complex and important information, having a translator that understands the industry context is vital. Without this, you must become a language expert to ensure that what you mean is what gets translated.
To solve for this, work with native language translators who have a proven experience and expertise in pharma, especially in clinical trials. This enables you to feel confident that the translator understands the context of the translated concepts, reducing the need for additional scrutiny and any lingering doubt or concern about the finished product.
You need to feel confident that the specific message and mission-critical details are being communicated in a manner that incorporates both the medical and scientific context and the cultural vernacular. 
Fluency 3: Industry Processes And Timelines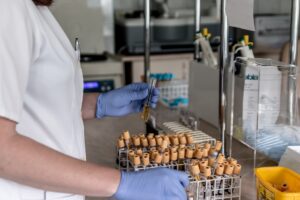 Clinical trials are complex and time-sensitive events. Every step in the process is critical to moving the trial forward on schedule, and any error, oversight, or delay can slow down or invalidate the trial. 
Work with translation resources that have experience working hand in hand with Clinical Research Organizations (CROs), pharmaceutical, and medical device companies. This will ensure they have the in-depth industry know-how to ensure a successful and smooth clinical trial execution and submission process.
A Solution Tailored for Clinical Trial Translations
Don't let translation inaccuracies compromise the accuracy or validity of your next clinical trial. 
DTS provides a team of dedicated language professionals with vast experience in clinical trial submission and mission-critical medical and pharmaceutical data translation.
Our professional translation team features a number of native language speakers who understand the core cultural dialects and vernacular of their language area, and possess equal fluency in the unique requirements of medical communication. 
DTS medical and scientific language experts specialize in providing the complex and accurate translation services required for submission to the Institutional Review Board (IRB), and Food and Drug Administration (FDA) as well as international agencies like the China Food and Drug Administration (CFDA) and others.
You and your organization have invested too much time, capital, and effort into producing accurate clinical trial results, gaining official approval, and eventually bringing a medical or pharmaceutical solution to market to trust your translation to a general translation service provider. Call the industry professionals at DTS to help ensure your clinical trial documents are completed correctly, on time, and with a partner that knows how to deliver quality work for this demanding application.